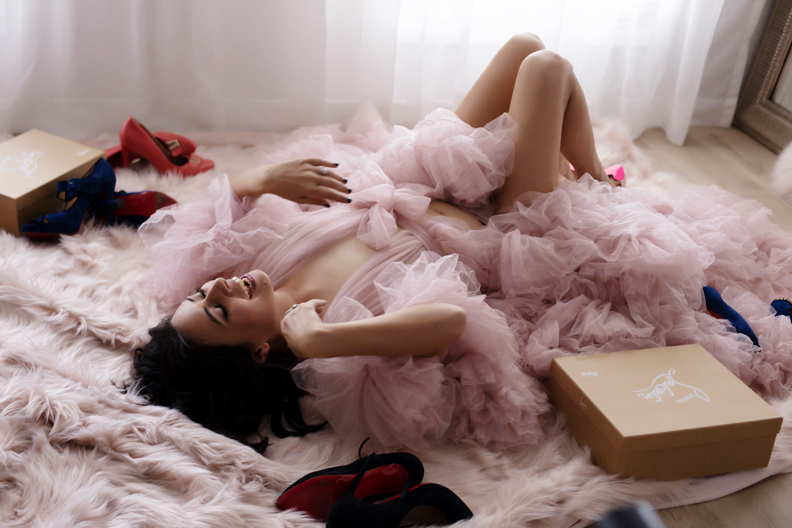 18 Mar

5 things to bring to your Boudoir Shoot
Ladies are always asking what they should bring to their Boudoir Shoot. There are so many options, I like to get my ladies to bring something that makes them feel sexy or has been told she looks sexy in, as well as some pieces that may mean something to her or them… so I will go through the Top 5 Things to bring you Boudoir shoot here. Remember to be true to yourself, love your uniqueness, thats the most important part of this journey. OWN IT GIRLFRIEND.
Lingerie that makes you feel beautiful, sexy or sensual. We need you go through your drawers first and see what you have and then I encourage you to go shopping. Yep, you have my permission! haha Check out Brasnthings, Honey Birdette, City Chic, online lingerie stores like Yandy or corsets.com.au for something you have always wanted to have. This is the time to spoil yourself, these photos are going to be on your wall or in a gorgeous album that will be passed down to your daughter or someone special, you want to look your best don't you?  This is the perfect time to have your best lingerie & bring it to your Boudoir Shoot! Bring along his favourite pieces  too. Did he buy you something for an anniversary present or just because? Now is the time to get some gorgeous photos of you in it for him. Now, I do understand if you are on a tight budget thats ok, you usually have enough in that undie drawer I am certain, like a simple lace black bra and knicker set and a coloured set will be fine, we can pair your underwear with things from my Prop rack, which includes Fur, lace robes and tule. 🙂 We will make you look amazing whatever your budget. I promise. Check different styles of Lingerie too to suit your shape fir example, bra & Knickers, Body suit, Baby doll negligée, high pants look great on some body shapes, waste shaper with a lacy bra and Brazilian knickers. I will do the different styles of lingerie in more detail soon.
Sentimental items- These can be anything that means something to you…Do you read, do you make purses, do you have a polar bear collection, do you love shoes… Bring those babies all with you! We want this to be a shoot about you, your life and loves. We will personalise and customise this shoot for you because when you look back at your photos, you may not be so into these same things anymore, but this you, at this time in your life, and these things were important to you. What a great reminder of you were.
Something that "THEY" like- This is so much fun. As if playing dress ups in Lingerie isn't fun enough. Bringing something of hid to the Boudoir Shoot is another angle we can play at. Not everyone has a partner, and that is totally fine, a lot of my ladies come in doing this for themselves and absolutely so they should. But some ladies come in to do a shoot for their Hubbys, their partners, their groom-to-be, for anniversaries. So let's have some fun with it. I have ladies come in with Super Girl & Wonder Woman outfits, dressed in his wedding shirt and used his tie to tie up her hands like 50 shades. We have had a tool belt and high Vis shirt as one of the outfits because he was a carpenter. The list is endless, what about a sexy secretary? BRING YOUR GLASSES!! He loves you in them!!! Think outside the box. What does he do, what are his hobbies, does he watch sport, do you do things together, does he play playstation. All of these things can make your shoot very personal.
Bring some jewellery, I have some in the studio, but if you have special earrings or bracelets or a ring, your engagement ring, a tiara. Bring anything you can think of that will make you feel beautiful and glamorous. When we get dressed up we adorn ourselves with jewellery why wouldn't you for this amazing beautiful Boudoir Shoot!
Bring Heels- Heels are the sexy icing on the cake, you stand different in them, you feel different in them and you look different in them… Why because you feel sexy in them, they give you that little spark of va va voom, even if you may not be able to walk in them lol. You won't need to go too far and I will put you near a wall if I need you standing, I promise lol. Bring your Hottest sexiest Stripper heels if you have them! Go to town, let that wild girl out.  I have a variety of heels in the studio but not all sizes, so please talk to me about this, we have recently found some gorgeous patent black and nude shoes in Novo that look amazing, but hey these photos are going to be an heirloom, why not splurge a little and get those killer heels you have been wanting forever!! Now is the time to get them. They will be in print forever in your favourite photos of yourself ever.
KEEP YOUR HEAD, HEALS & STANDARDS HIGH. -Coco Chanel
So there you have it, 5 things to bring to your Boudoir Shoot. Plain and simple. Easy Peasy really. As long as you bring your smile and sass we should be ok. hehe Bring anything and everything I don't care if you fill your car! We will go through and see what feels right for you now. As long as you love it, you will love yourself in it. I will pose you & get the perfect look for your look. Believe me, I will be there every step of the way remember, I have your back always my Lovely. xxx