28 Mar

The Honey Birdette Sex Swing
Introducing the Honey Birdette Sex Swing….
Well Hello there you Sexy Thang.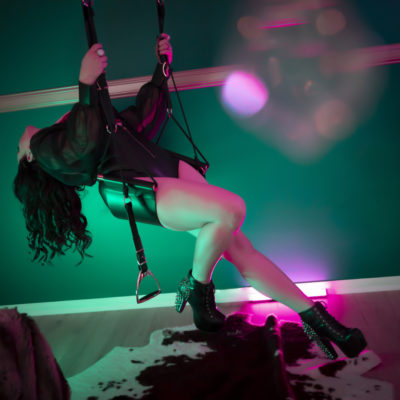 What can we do with you?
I purchased the Honey Birdette Sex Swing last year to spice up the studio & boy did she spice it up! So is she all-Black leather with rose gold fittings & she has stirrups! She is a very high-end good quality piece of equipment I can assure you.
The Queens who have had a go in the Honey Birdette Sex Swing have had so much fun. It's a little spinny so we spend a lot of time laughing that they can't stay still lol It works really well with the neon lights so I do use them a lot with the swing as it at to the whole vibe.
The Honey Birdette Sex Swing is a fantastic way to spice up your Boudoir Shoot. I will put you in several flattering positions, you can wear anything you like or why not try it nude. I have the Honey Honey Birdette nipple covers too & all the props you can imagine to create the fantasy. We can also pair it up with the Honey Birdette cuffs & collar fox mask or bunny mask, lace, leather or why not try a Body Stocking, they are so sexy. It's entirely your choice & your flavour. Did I mention it is so much fun & we laugh a hell of a lot of the time? You wouldn't know in most of the photos lol, but I absolutely make sure you are 100% comfortable & safe & of course you are having a great time.
The Hook is very substantial & it can take all sizes. So don't worry about that at all if you are. I've got you, this sex swing is for EVERYONE!
So what do you think? Want to enhance your experience, maybe come back for a 2nd shoot now that you are feeling more comfortable, or maybe you would like to bring your partner this time…. Now that could be interesting…. The Honey Birdette Sex Swing would be the perfect little prop to bring out some kinky hot moments for you both.  I am sure after your shoot you won't keep your hands off each other…. Will you even make it home? lol hmmmm
Book Your Shoot with the Honey Birdette Sex Swing Add-on today. Start your Boudie Bank so that you can get all your favourites.