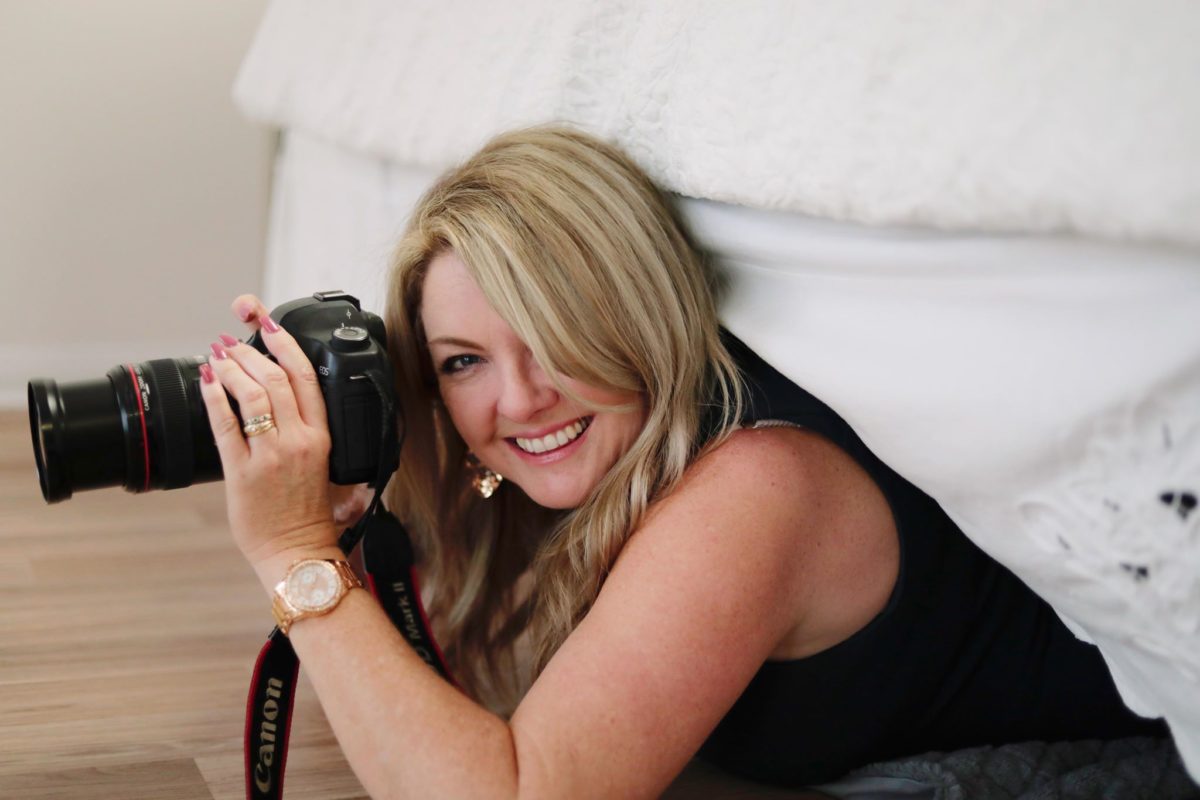 01 Apr

Why I Shoot Boudoir Photography
Why I shoot Boudoir?

Although I have loved shooting many genres, it is Boudoir photography that I am completely in love with & with every woman I photograph I become more & more passionate about how Boudoir can empower & allow women to change the direction of their lives.
I shoot Boudoir because I love celebrating diversity and empowering women. I love inspiring women to feel more confident in themselves for who they are right now. It has transformed my life to be more fulfilled & I feel like I have found my true calling.  Being a Boudoir Photographer has really got me out of my comfort zone as well & connected me with a greater sense of purpose. I can't be more grateful for finding my passion, I absolutely love being a Boudoir Photographer & I take what I do very seriously & understand the magnitude of how it could go either way. 
So hey Beautiful, my name is Jodie and I am your Brisbane Boudoir Photographer and Makeup Artist. I have been a photographer for 16 years & doing makeup for almost 30.
As a Boudoir Photographer in Brisbane, I see an array of different women come out of their shells. Women of all different shapes, sizes, backgrounds, sexualities, styles, levels of naughtiness & personalities approach me wanting a breakthrough in confidence and owning who they are. Photographing so many different women has given me a greater appreciation of the female form; we're all goddesses really we are! It has given me faith in humanity. No matter what our differences, we all have the same longing to belong, be loved, and feel happy. I have learned so much from my ladies over the years, including Laser!! Omg! lol
A Boudoir shoot is all about owning who you are and celebrating what makes you, you. If I had a dollar for every time a client said that the photoshoot boosted their confidence, and they actually loved way more photos than they thought they would, I'd be in Bora Bora! But this is seriously the reason why I am A Boudoir Photographer. 
Boudoir photography will definitely change the way you see yourself. You will actually finally see yourself as other people see you. You'll be pleasantly surprised and see yourself in a new light. Stepping out of your comfort zone into sexy lingerie, Angel Wings, or cuffs and collars will transform you with bold energy. Plus, a boudoir photo shoot is a perfect way to practice self-love and spoil yourself (you deserve it). If you want to boost your confidence, a boudoir or glamour shoot is definitely for you!   
My passion is to help all women realise how amazing, beautiful, and valued they are. I love inspiring women to feel empowered and confident. I show them how beautiful they are from the inside out with the most gorgeous photos they have ever seen of themselves. It's what I live for; Empowered women, empower women. I believe that a photoshoot will enable you to believe in yourself, so this is what I strive for. You will find a new level of confidence that will change your energy and your vibe, which in turn will change the way you live your life. Wouldn't it be great to live a life you have always dreamed of and you are not held back simply because you didn't think you were worthy enough or deserved it?
So if you want to
Stop comparing yourself to others,
stop feeling you aren't good enough,
stop feeling you are not lovable
stop feeling you aren't sexy
stop feeling you won't look as good as the other ladies I have photographed.
& you want to feel the best you have felt about yourself for the first time in a long time, if you want to be that girl that goes for it & to say-"Wow I never thought I could look that sexy!" Then a Boudoir experience is exactly what you need.
A little bit about me personally-
I love being social, love a good laugh, love a glass or two of champagne  I'm a dog person, I camp, I stand up paddleboard, should do more yoga and I love my family. I'm a Leo, which in the star sign world means that I am fiercely loyal, passionate, positive, happy, and a bit of a romantic (those who know me will definitely agree with these attributes). I believe in the law of attraction and that vibes mean everything. I believe you can feel a person's vibe before they even start talking to you, like when someone enters the room. I believe that happy vibes attract more happy vibes and that you can be happy at any size, or age if you allow yourself to be. 
Some of my ladies have said that people at work who don't even know they have had a shoot say to them : So why are you so happy today?" "There is something different about you today…" If that isn't a change in their vibe I don't know what is. I absolutely love hearing these stories. I love hearing the stories of women who feel like they have gained the confidence to find love, to feel better about themselves, to accept themselves and their bodies. We are not just bodies, we are the souls inside. Which is what I want to capture, I want to capture your soul coming through your eyes, a smile, a real smile none of his fake shit. I can tell and I will call you out! Lol  I won't get the real you unless you are comfortable either which I also feel is really important to do when you are in a vulnerable shoot. I want you to see a sexy side, a sensual side, a feminine side you may not have seen for a long time. Let me show you babe.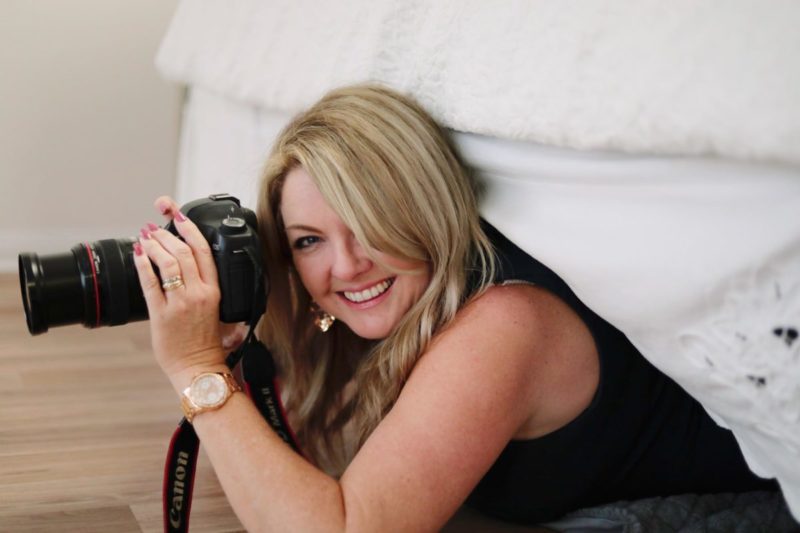 My photography Story
I practiced photography from an early age and was obsessed with black and white photography in high school. I actually shoot all my Boudoir Shoots in black and white today, don't worry they turn back to colour once I start editing. I am very "easily distracted" so colours & shiny objects take my brain on another tangent lol. I didn't shoot professionally until about 2005 (wow, I can't believe that was 16 years ago) when digital cameras finally arrived and I found it financially easier for me to start shooting again. My husband bought me my first digital camera and I was in action straight away. I took some photos of my kids & of agaves and rocks and framed them in my bathroom. I was told they were beautiful and I should start selling them. So I believed them and I started selling the photographs I was taking in my garden!
Before I jumped into being a Brisbane Boudoir Photographer, I started out as a  photographer/buyer/designer of homewares for my own unique party plan business. Jodie-lea Creations traded successfully from 2005-2008. I developed my own homewares party plan business where I sold my own wall art and homewares including candle holders, lamps, bowls and photos of frangipanis, agaves, rocks, and natives. I shot, printed, produced, painted, and designed these myself and with help from my husband. 
After having this business for three years and loading and unloading the car so many times. I started working full-time at a Prolab when the kids were around middle school age. I then started shooting weddings for well-known Brisbane wedding photographers while I worked full time. I loved shooting weddings as it suited my 'fly by the seat of my pants' shooting style. I met some of the most wonderful people while part of the photography and Prolab community and most are all still my beautiful friends. 
I had been at the Prolab for over 7 years and there were a lot of changes happening, I had this gut feeling that my time there was coming to an end.  I decided to start to take some lighting and photography workshops to improve my skills. It was at the first lighting workshop that had nothing to do with boudoir photography, where I had my "lightbulb moment". It just hit me like a lightning bolt, that boudoir photography was what I wanted to do with my life. "That's it!", I thought. I was going to be a Boudoir Photographer! 
I went home and literally ran inside and said to my husband "I know what I want to do!". So we literally changed our house around (which may I add, is perfect now) and made our lounge room into the studio. The Studio is all at the front of the house along with my gorgeous powder room & consultation room. I feel like the studio is in the perfect spot and according to Feng Shui beliefs, it is in the relationship corner of our house, honestly, everything that fell into place.
I spent the first year deciding on the perfect name, building and writing my website myself, perfecting the experience, finding the perfect products, and practicing my posing. I have had the studio for over six years now. These last six years have been some of my most rewarding working years and some of the hardest. The old saying kept entering my head "If it was easy everyone would be doing it, right?" 
Photographing and allowing women to be vulnerable in a safe space and to be able to re-connect with their true selves, their femininity, and their sensuality is paramount to giving a uniquely nurturing experience. I wanted to teach women they were worthy & deserved a luxury experience for themselves. I didn't just want to be like every other photographer doing everything from newborn babies to weddings to Boudoir. I wanted to specialise in a genre that gave me a reason to be passionate and give women the attention and the luxury experience they deserved. Concentrating on just one genre allows me to really get to know my ladies & to give them a better Boudoir Photographer Experience.
The VIP Ladies Only Private Facebook Group- For Your Eyes Only
As well as being the owner of a successful Boudoir Photography business, I also enjoy running the VIP Ladies Only Facebook Group "For Your Eyes Only" This group has just grown beautifully & organically over the last 3 years & I have to pinch myself sometimes because it is full of supportive, wonderful, strong, inspiring women that I know have my back & I have theirs. Who would have thought a Facebook Group would become such an important part of so many women's lives. We have had in-person Events & have gone on Excursions together. Each time we meet more of our members & more become close friends outside of the group. It is just so heartwarming, It is also a place where the ladies see the real me, the raw unapologetic me swear words & all. lol You will also see more of my recent work & secret mini Slideshows of our group members who have had a shoot. I just love the connections I have made & there are so many beautiful women in the group I now call my friends. Below are just a few photos from our last excursion to a Burlesque Show, it was such a great night!!! I cannot wait to do it all again! So not only was this a fun night it also was a learning night & was a game-changer for many women who attended. The Vanguard Burlesque Show has a diverse range of gorgeous performers & it proved to the ladies that you don't have to be a skinny mini to get up on the stage & have confidence. It is a mindset & belief in yourself & no one else. It was indeed an incredible night for light bulb moments as well.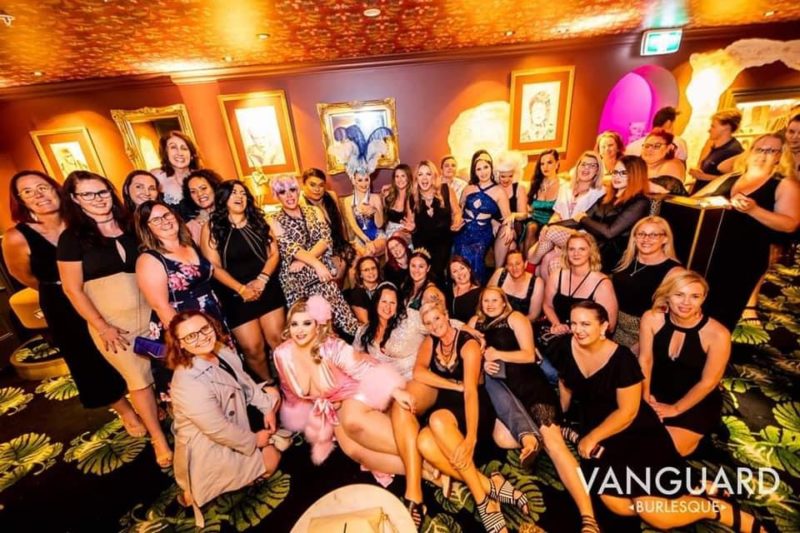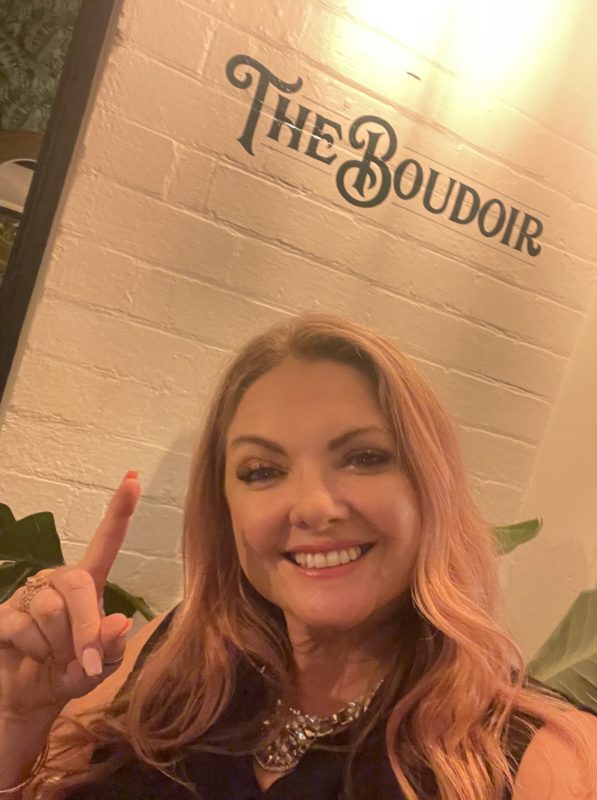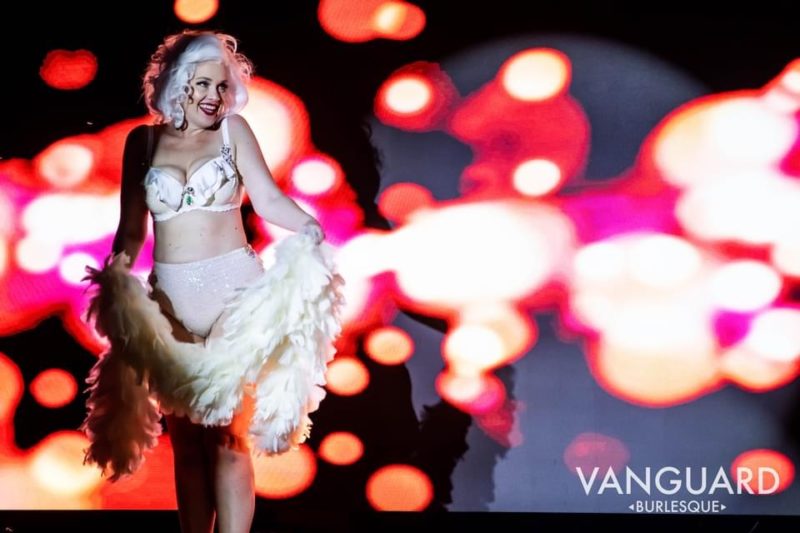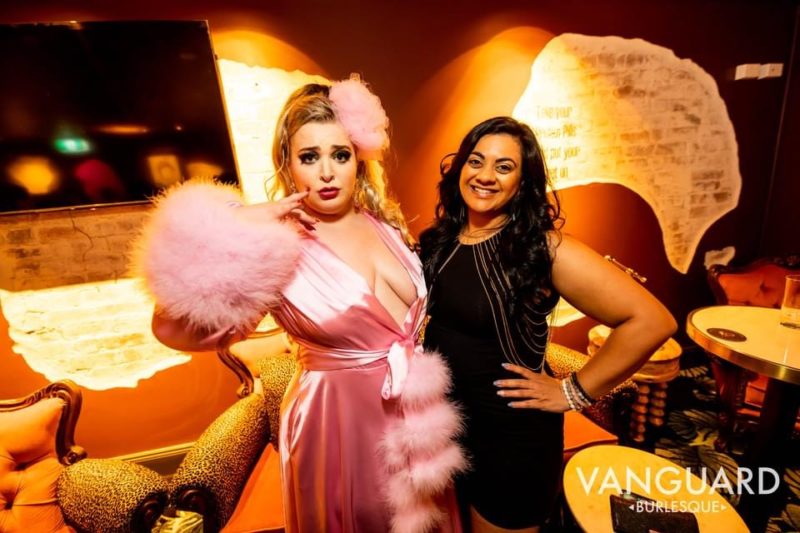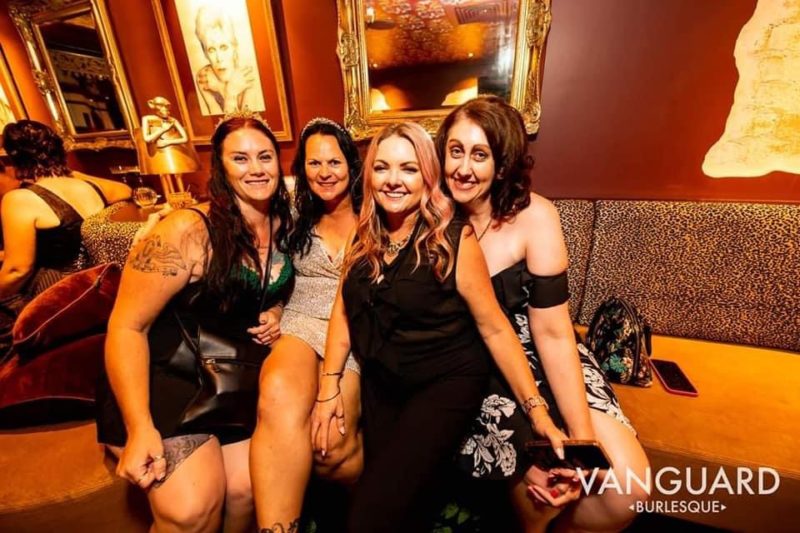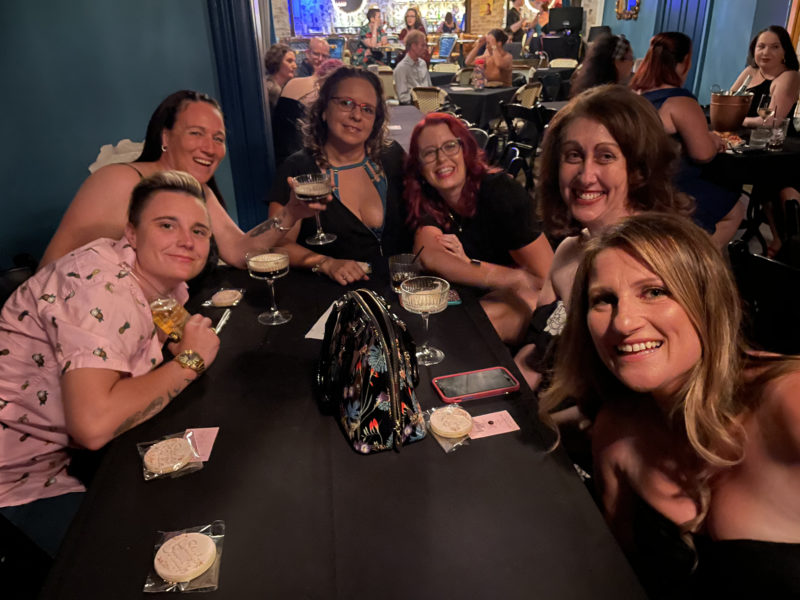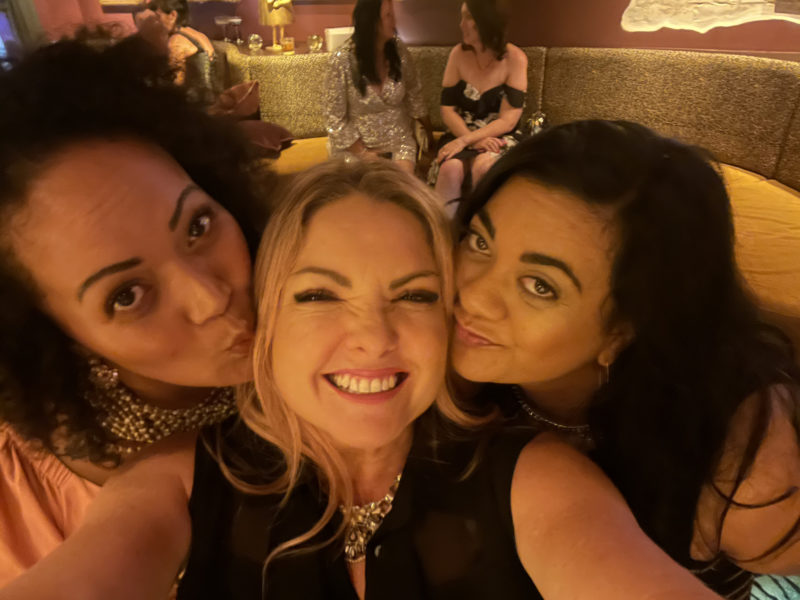 If you haven't joined our fabulous group of women yet, click the photo below to join.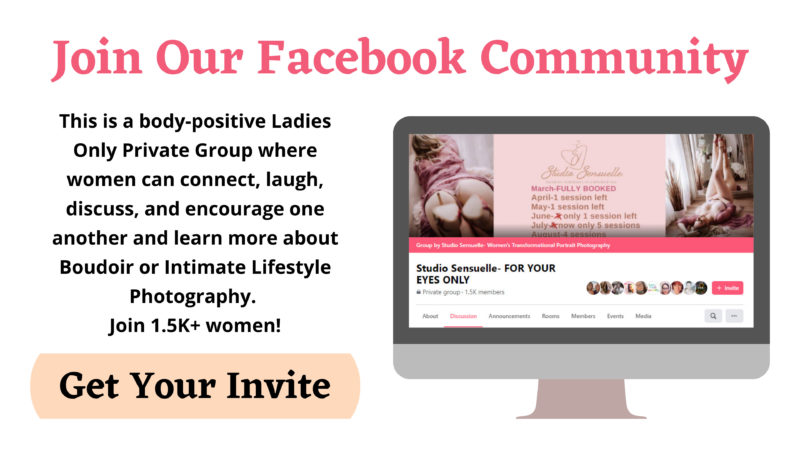 The Boudoir Photography Transformation
Let me help you become immersed in this sensual, nurturing, and empowering boudoir photography experience! Are you ready to see yourself in a way you have never seen yourself before? I believe you deserve to do that in the most luxurious and nurturing way possible, so I have thought of every little detail for your experience.
From the very beginning when we connect on the phone, I get to know what's important for you, why you want a Transformational Studio Sensuelle Experience, and what you want a breakthrough in (confidence and self love anyone?!). I'm confident that you will feel even more comfortable and excited about what's possible once we speak.
Next, we'll have a coffee date in the studio where I will show you around and we can start planning your shoot based on what artwork resonates with you the most. Each piece of artwork, whether it be a customised Italian made album or a unique piece of art for the wall, requires planning. So it is important for me to get to know you before we start taking any photographs. Let's have a chat and a cuppa and get to know each other before you strip down in front of a stranger, how does that sound?
Your gorgeous boudoir photo shoot is when the real pampering begins. From beginning to end you will feel like a queen. I will do your professional makeup and hair while you sip on a beautiful cup of tea or bubblies, dress you up in your outfits, and pose and style you to enhance all of your best features. All of it is aimed at you feeling your most confident and most loved.
Next is the most exciting part; your personalised Design Consultation! Sit back and relax in front of a cinematic presentation of your best photographs from your boudoir photo shoot. It's like seeing yourself for the first time and you will actually finally see yourself as other people see you. You'll be pleasantly surprised and see yourself in a new light. There's a certain magical moment when you see your photos for the first time. It's a "Wow, I look amazing! I can't believe I never saw that." moment. The photos are wonderful memoirs of how amazing, dazzling, and strong you are. 
The Design Consultation is when we select your photographs that are going to complete your one-of-a-kind artwork or album, creating something truly valuable for you to keep for the rest of your life. Each artwork is customised. Yes, we have prepay or post payment plan options, so budgeting for your amazing artwork is never a problem. 
Once we have selected your favourite photos and designed your artwork, I get to work perfecting your boudoir photographs with high-end retouching. In four to six weeks, or once you have paid off your album or artwork, your beautiful memories will be ready for you to collect, take home, and enjoy! Every time you look at your personalised and beautiful album, all of that confidence and self-love you felt during your photoshoot will be right there for you to experience over and over again, every single day for the rest of your life.
Whether you are doing this completely for yourself, or as a gift for your lover, boudoir photography is an exciting and empowering experience that you'll thank yourself for. A boudoir photo shoot is all about owning who you are and celebrating what makes you, you. If you want to boost your confidence, boudoir photography is definitely for you. It's time to stop hiding and to start loving yourself, truly. You've got this!
Interested in booking your boudoir photo shoot? If you are a member of the VIP Group on Facebook, BOOK HERE
If you are NOT a member of the VIP Group on Facebook-  BOOK HERE  
Join above by clicking the Photo of the Group.
I really hope after reading about why I shoot Boudoir that you can tell that I am very passionate & dedicated to giving my ladies the very best photographic experience I can. I have said it before & I will say it again. This is NOT a normal photoshoot, which is why I don't treat it as one, & neither should you. This is an investment in yourself & living your best life. I know you are worth investing in which is why you will feel loved & looked after every step of the way.
I cannot wait for you to come in & do this!!
Love & hugs,
Jodie xx